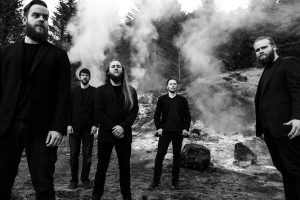 Vores tema uge om Wacken Open Air 2016 fortsætter i dag. Men hvor vi i går kiggede syd på, med den sydafikanske Wacken Metal Battle vinder Zombies Ate My Girlfriend, så står den i dag på det kolde, kolde nord. På Island vandt det atmosfæriske black metal band, Auðn, nemlig Islands Wacken Metal Battle.
Og netop Auðn har vi fået en snak med op til deres koncert på Wacken i næste uge!
The interview is posted in an english version right after the danish version.  
Hvem og hvad er Audn? 
Auðn er måden vi føler, når vi laver musik. Der er skønhed i det kolde og mørke landskab, der omgiver os, selv når solen endelig kommer igennem efter de lange vintermåneder. Vi føler vores musik afspejler disse ændringer. Vi er stærkt inspireret af ekstremer i vores omgivelser, som tager kraftigt på dig mentalt.
Island synes at være et land, der udvikler mange metal bands, og især på black metal scenen, i dag. Hvorfor tror du det er sådan?

Jeg kan ikke tale for vores kammerater, men for os er det helt klart atmosfæren. Det er ret ekstremt at leve på Island. Depression og mangel på ting at investere vores tid i, gør, at man laver musik, fordi det afspejler det helt naturligt.
Kunne du så faktisk sige, at der er en form for en islandsk metal lyd?
Nej, bands her er lige så forskellige, som de er mange. Selvfølgelig er det næsten uundgåeligt, at nogle bands vil blive inspireret eller endda kopiere hinanden anden, men hvor ville vi være uden hinanden? Der er ingen akkorder, der ikke er blevet spillet, og der er ingen er temaer der er uudforsket.
Hvad synes du om Wacken Metal Battle Island i år? 
Det var en stor mulighed som vi udnyttede, og vi fik derfor en chance, for at bruge det som en platform til at få os et andet sted hen… hvor til? Det ved jeg faktisk ikke endnu.. Vi er i dette for at netværke og få forbindelser.
Hvilken betydning har det for bands på Island at deltage i Wacken Metal Battle?
Ja, altså, bands ønsker fortsat at deltage i stor stil, så det har bestemt en stor værdi for os. Som sagt er det en platform for at nå ud til noget andet. Jeg tror at de fleste bands ser det som en chance, for at få opfyldt flere af deres drømme. Men igen, det er blot noget jeg tror.
Hvad forventer du fra show på Wacken?

Vi forventer, at Wacken kan være et skridt i den rigtige retning for at få Auðn ud på de større scener.
Til vores læsere, der ønsker at udforske den islandske metal scene. Hvilke andre bands ville du anbefale?

Severed, Dynfari, Sinmara for at nævne nogle få. Scenen er virkelig pakket med gode bands, så listen kunne blive ved og ved.
Audn
Wacken W.E.T Stage 
Onsdag kl 17.40
Auðn – Auðn (Full Album)
Blastbeast til Wacken Metal Battle på Island tidligere i år
Who and what is Audn?
Auðn is the way we feel when making music, there is beauty in the cold and dark landscape that surrounds us, and hope, even when the sun finally comes through after the long winter months. We feel our music reflects these changes, we are heavily inspired by the extremes in our surroundings, which take a toll on you mentally..
Iceland seems to be a country that develops many metal bands and, nowadays, especially on the black metal scene. Why do you think?
I can't speak for our peers, but for us its the atmosphere..the extremes of living in Iceland..the depression and the lack of things to invest our time into. Making music that reflects that comes naturally.
Could you actually say that there is some kind of an Icelandic metal sound?

No, the bands here are as diverse as they are many. Of course inevitably some bands will get inspired or even copy from one another, but what are we without that which inspires us? There are no chords that haven't been played and no themes unexplored.
What do you think of the WOA Battle Iceland this year?
It was a great opertunity which we siezed, and got a chance to use it as a platform to get somewhere else…where to? I'm not sure..we're in this to network and gain connections.
What is the significance for the bands on Iceland to take part in the metal battle?

We'll bands keep entering so it has some allure. As i said its a platform to get somewhere else. I think most of the bands entering see it that way. A chance to make a go at this dream. Again, if that is true I don't know.
What do you expect from the show at Wacken ?
We expect Wacken to be a step in getting Auðn to bigger scenes.
To our readers who wants to explore the Icelandic metal scene. Which other bands would you recommend?
Severed, Dynfari, Sinmara to name a few. The scene is really packed with good bands, so the list could go on and on