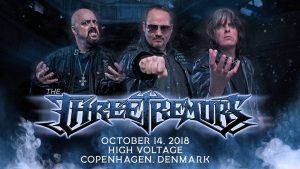 Så er vi satme gavmilde igen!!
D 14 oktober rammer The Three Tremors High Voltage. Og for fans af den reneste heavy metal betyder det mødepligt!
For The Three Tremors er frontet af ingen ringere end tre af de største stemmer i heavy metal. Tim "Ripper" Owens (Judas Priest, Iced Earth, Dio Disciples), Harry "The Tyrant" Conklin (Jag Panzer, Satan's Host, Titan Force) og Sean "The Hell Destroyer" Peck (Cage, Denner/Shermann, Death Dealer). Denne aften vil de tre vokale powerhouses, sammen med deres gedigne backingband, leverer speedmetal som din mor hadede den allermest, i form af både egne nye kompositioner fra deres kommende debutalbum og en ordentlig røvfuld numre, fra de tre mænds imponerende bagkatalog. Det blir' EPISK!
Nu giver vi dig mulighed for at vinde billet til dette vilde arrangement.
Det eneste du skal gøre er at svare på følgende spørgsmål herunder i kommentarfeltet.
Hvilket album med Judas Priest sang Tim Ripper IKKE på?
a) Angel Of Retribution
b) Jugolater
Vi skal have dit svar senest d. 10 oktober kl 12.