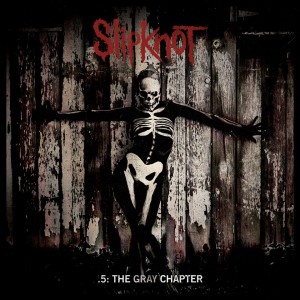 Så er der info ude om Slipknot's kommende 5 udspil! 
I følge Metal Hammer UK, er det angiveligt Itunes, der står bag offentliggørelsen af titel, trackliste og albumartwork for Slipknot's nye skive, der rammer gaden d 21 oktober!
".5: The Gray Chapter" hedder udspillet, hvor bandet fint mindes nu afdøde bassist og founder Paul Gray og er det første udspil siden 2008's "All Hope Is Gone".
".5: The Gray Chapter" trackliste:
XIX
Sarcastrophe
Aov
The Devil In I
Killpop
Skeptic
Lech
Goodbye
Nomadic
The One That Kills The Least
Custer
Be Prepared For Hell
The Negative One
If Rain Is What You Want
Override (bonus track)
The Burden (bonus track)
OPDATE: Slipknot har netop bekræftet detaljerne på deres Facebook!