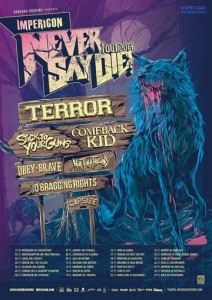 Et hardcore/metalcore brag af de helt store kommer forbi den jydske hovedstad til november!
Det er Merchandise-kæden Impericon der står bad "Never Say Die!" touren, der i 2014 rammer Aarhus i lille Danmark! Touren består i år af TERROR, Comeback Kid, Stick To Your Guns, Obey The Brave, More Than A Thousand, No Bragging Rights og Capsize! 
Det kommer til at gå ned d. 7/11-2014!!
Link: