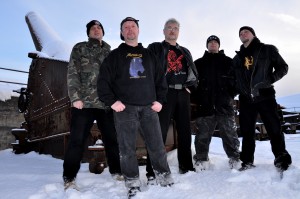 De danske thrash-legender bliver fornemt signet!
I meddelelsen lyder det (på engelsk):
"ARTILLERY signs to Metal Blade!
Metal Blade is welcoming legendary Danish Thrashers ARTILLERY to their arsenal!
Denmark's ARTILLERY is easily appointed one of Europe's earliest exponents of Thrash Metal, and the band's contribution to the bourgeoning genre is difficult to ignore. The Danish quartet successfully managed to fuse an abrasive brutality with technicality and strong melodies, with the noteworthy guitar leads of the Stützer-brothers serving as highlights.
ARTILLERY was formed in the Copenhagen suburb of Taastrup, Denmark in 1982 by Michael and Morten Stützer. Since then ARTILLERY have gone thru numerous line-up changes and released six studio longplayers. The first period of ARTILLERY´s existence gave the World the three classic albums "Fear of Tomorrow", "Terror Squad" and "By Inheritance" featuring some of the finest moments of Thrash Metal Europe has ever put out.
After an eight-year hiatus ARTILLERY returned in style in 1999, sounding as fresh and hungry as ever before without sounding like one of those nostalgia acts. The three albums "B.A.C.K.", "When Death Comes" and "My Blood" put ARTILLERY not only back on the map, but also to the top of their genre.
Comments ARTILLERY on the signing: "Artillery is very proud to have signed with legendary Metal Blade Records! Metal Blade is the company who released Metallica's first song, Slayer's and Trouble's debut records and who in their line-up have our fellow Danes Mercyful Fate/King Diamond signed. With their over 30 years of experience in the business this is a big step forward for Artillery. We can't wait to have our new album released on Metal Blade, and we are looking forward to promote it with our first American tour ever. We also want to thank Metal Mind and Agnieszka for the last 5 years!"
Since the release of their last album "My Blood" in 2011 ARTILLERY have played European and US tours and appeared at several festivals and the Barge To Hell cruise. In 2012 ARTILLERY saw the departure of Carsten N. Nielsen and Søren Adamsen. Two new members were recruited, making Josua Madsen the new drummer and Michael Bastholm Dahl the new singer. Touring plans for the rest of 2013 include the U.S. as well as South America, making the band tour extensively for the rest of the year. Find ARTILLERY gig updates on their facebook site!
ARTILLERY European shows:
12/07/13 DE – Balingen – Bang Your Head Festival
13/07/13 DK – Fredericia – Metal Magic Festival
01/08/13 UA – Crimea – Metal Head´s Mission
16/08/13 DK – Copenhagen – Lygten
12/10/13 RO – Bucharest – Romanian Thrash Metal Club
01/11/13 BE – Geraardsbergen – Blackout Bash
A new album has been recorded in the spring of 2013 and is right now in the stage of mixing and mastering. More info on the new ARTILLERY longplayer will be revealed shortly!
ARTILLERY:
Michael Bastholm Dahl – vocals
Michael Stützer – guitars
Morten Stützer – guitars
Peter Thorslund – bass
Josua Madsen – drums"
Vi siger herfra stort tillykke til drengene!!