Aalborg Metal Festival er klar med de første navne!
af
Weiss
den
24 Jun, 2013
•
6:20 pm
No Comments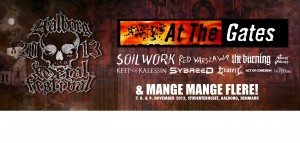 Så sigter vi mod nord! De gode folk i Aalborg er nemlig klar med årets første navne. Og der startes solidt ud må man sige!
At the Gates (S)
Soilwork (S)
Keep of Kalessin (N)
Sybreed (CH)
The Burning
Crocell
Act of Cohesion
The World State
Altar of Oblivion
Red Warszava
… er blevet føjet til årets vinter-fest!
Aalborg Metal Festival finder i år sted d. 7-9 november i Studenterhuset