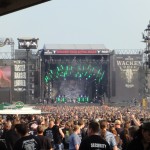 Den årlige Wacken Metal Battle er nu en realitet. Bandsne i konkurrencen er fundet og nu skal vinderen findes. Vinderen som skal gøre kunsten af By The Patient og Aphyxion's koncerter på Wacken efter til sommer! 
April 4th @ Studenterhuset, Aalborg:
Electric Hellride
Process
Rotting Hope
Spit Rusty
Vanir
April 5th @ Fermaten, Herning:
Caro
Chainfist
Dreadlord
Shaped Like Swans
The Vision Ablaze
April 13th @ Godset, Kolding:
Bone
Diamond Drive
Fall Of Pantheon
Ferocity
Monstah
April 14th @ V58, Århus:
Blood Label
Diretone
Panacea
Rapid Dominance
Sickseed
May 3rd @ Gimle, Roskilde:
Barricade
Cold Night For Alligators
Defecto
Trusted Few
What Worms Inherit
5 Maj vil finalen blive afholdt i Pumpehuset. På samtlige shows vil Dawn of Demise headline!