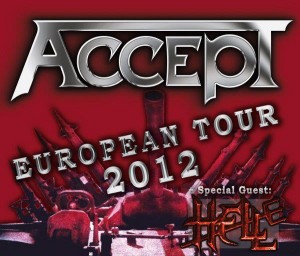 Så er der godt nyt til fans af traditionel old school heavy -fucking- metal! Tyske Accept er allerede klar med opfølgeren til deres yderst succesfulde comeback "Blood of the Nation" fra 2010.
Albummet "Stalingrad" er på trapperne og bliver udgivet via Nuclear Blast i foråret 2012!
Som det også var tilfælde med Blood Of The Nation er det den amerikanske topproducer Andy Sneap (MEGADETH, EXODUS,NEVERMORE, ARCH ENEMY), der har fået tjansen bag pulten. Wolf Hoffman, guitarist, siger: "ACCEPT and Andy Sneap have the perfect synergy. This was so clear with 'Blood Of The Nations'and we are excited to continue on that path. Andy is not only an amazing and prolific producer but also a very good friend who has long become a member of the ACCEPT family." 
Vi kan således forvente stålsat og klassisk heavy metal når Accept er klar med Stalingrad i 2012. Albummet bliver selvfølgelig fuldt op af en ny EU-tour, som begynder i april 2012 og har det britiske NWOBHM – band "Hell" med sig som special guest. Endnu er der ingen koncerter for Danmark eller Skandinavien, men det kommer forhåbentlig snart!
Accept i 2012 ser således ud:
Wolf Hoffmann: Guitar
Peter Baltes: Bas
Herman Frank: Guitar
Mark Tornillo: Vokal
Stefan Schwarzmann: trommer