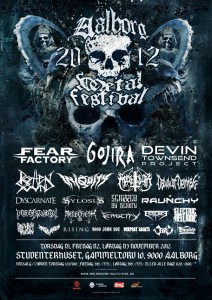 Aalborg Metal Festival har idag smidt det sidste hovednavn på plakaten, i form af det franske tech-død band Gojira!
Som de skriver på facebook:
"THE AMF METAL CREW is extremly proud to announce the final headliner for the Aalborg Metal Festival 2012 – many of you guessed it, and here you go: french death metal masters GOJIRA!"
Gojira har høstet stigende popularitet i den seneste tid, ikke mindst pga. deres succesfulde og yderst velbesøgte koncert på Copenhell 2012, og deres nyeste anmelderroste skive "L'Enfant Sauvage" fra tidligere i år.
Det fulde program tæller nu:
Fear Factory
The Devin Townsend Project
Gojira
Rotten Sound
Iniquity
Marduk
Dawn Of Demise
Dyscarnate
Sylosis
Scarred By Beauty
Raunchy
Puteraeon
Malechesh
Ferocity
Essence
Electric Hellride
Billy Boy In Poison
Plague of Angels
Serpent Saint
Caro
9000 John Doe
Rising
Mercyful Diamond
AMF's hjemmeside:
http://site.aalborgmetalfestival.dk/
Køb billet:
http://www.billetlugen.dk/musik/25328/aalborg-metal-festival-2012/