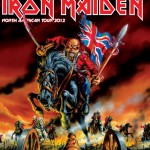 Så er der store, store nyheder fra Maiden-fløjen! 
Opfølgeren til 2008/09 touren "Somewhere Back In Time" er en realitet og bandet vil nu drage ud på tredje del af deres History-tour under navnet "Maiden England World Tour 2012/13″.
Som navnet antyder er der her lagt vægt på "Seventh Son Of A Seventh Son Tour"-optagelsen fra 1988. Denne vil således blive udgivet igen sammen med en dokumentar der fortæller hele historien.
Vi kan derfor se frem til den klassiske sceneopbygning fra "Seventh Son Of A Seventh Son Tour" og en setliste der i høj grad har fokus på selv samme album og periode!!
Bruce Dickinson udtaler: "We have great fun playing the History of Maiden Tours because it gives us an opportunity between new albums to go out and play songs from our earlier catalogue. It's always fantastic seeing the crowd reaction from a new generation of fans who have never experienced some of these tracks performed live before, and of course we know our longstanding fans will enjoy seeing the original Seventh Son Tourre-visited – with many other surprises! Our intention is to play about two thirds of the original track list of Maiden England (shown below*), including some songs we have not played live in a very,very long time, plus other favourites we just know the fans are going to want to hear! We always try to give our fans a great show musically, but we have always tried to make it as entertaining and memorable an experience as we can visually. And we all feel this show is going to do that splendidly! We can't wait to get started in Charlotte"."
Indtilvidere er der kun offentliggjort datoer i USA for 2012, men bandet vender stærkt tilbage til hele verden i 2013!
UP THE FUCKING IRONS!!