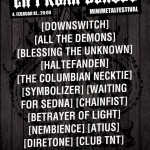 YES! Folkene bag The Rock er klar med en ny minimetalfestival.
Ligesom til nytårsfesten vil The Rock afholde endnu et fremragende arrangement på Lions and Barrels under titlen: " ER I KLAR DERUDE – minimetalfestival" d. 4 feb kl. 20.00
Til festivalen vil:
Downswitch
All The Demons
Blessing The Unknown
Haltefanden
The Columbian Necktie
Symbolizer
Waiting For Sedna
Chainfist
Betrayer Of Light
Nembience
Atius
Diretone
spille for os og selvfølgelig kommer Club TNT også forbi til endnu en fest!
Til festivalen vil det være muligt at købe mad!