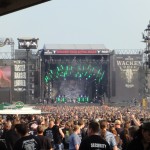 Så er de her fandme snart- altså sommerens festivaler!!
Vi har på Blastbeast.dk lavet en dybdegående oversigt over de største af sommerens hård rock/metalfestivaler. Er man i tvivl om hvilken festival man skal tage til i 2012 så se med her!
Sweden Rock, SE 6-9/6:
Mötley Crue, Soundgarden, Lynyrd Skynyrd, King Diamond, Motörhead, Sebastian Bach, Mastodon, Blue Öyster Cult, Gotthard, Dimmu Borgir, Edguy, Fish, Gamma Ray, Danko Jones, Electric Boys, Pentagram, Symphony X, Slade, Exodus, Girlschool, Sacred Reich, Katatonia, Axe, Ugly Kid Joe, Tygers of Pan Tang, Vdelli, Saint Vitus, Bonefide, Graveyard, Deals Death, Skyforger, The Gloria Story
Download, ENG 8-10/6:
Metallica, Black Sabbath, The Prodigy, Chase and Status, Machine Head, Biffy Clyro, Tenacious D, Soundgarden, You Me At Six, Devin Townsend Project, Trivium, Lamb Of God, Anthrax, Devildriver, Little Angels, Ugly Kid Joe, August Burns Red
Copenhell, DK 15-16/6:
Slayer, Marilyn Manson, Lamb of God, Mastodon, Immortal, Killswitch Engage, Anthrax, Trivium, Skeletonwitch, Korpiklaani, All Shall Perish
Metaltown, SE 15-16/6:
Slayer, Marilyn Manson, Lamb of God, Mastodon, Killswitch Engage, Anthrax, Trivium, Skeletonwitch, Opeth, Machine Head, Within Temptation, Kyuss Lives, Nasum, Sabaton, Vader, Devildriver, Dethtrone
Gods Of Metal, Italien 21-24/6:
Manowar, Guns n Roses, Mötley Crue, Black Sabbath, Unisonic (feat. Kai Hansen, Michael Kiske), Holyhell, Within Temptation, Sebastian Bach, Killswitch Engage, Black Stone Cherry, Ugly Kid Joe, Opeth, Lamb of God, Trivium, Devildriver, August Burns Red
Graspop Metal Meeting, BE 22-24/6:
Black Sabbath, Slayer, Motörhead, Megadeth, Sabaton, Trivium, Kuyss Lives, Killswitch Engage, Pennywish, Hatebreed, Dimmu Borgir, Children Of Bodom, Europe, Lamb of God, Amon Amarth, Sick Of It All, Ihsahn, Jon Oliva's Pain, As I Lay Dying, Devildriver, Paradise Lost, Exodus, Sacred Reich, August Burns Red, Death Angel, Obituary, Unearth, Nasum, Comeback Kid, H20, Possessed, Ensiferum
Party San, DE 9-11/8: 
Deicide, Vallenfyre, In Solitude, Nile, Gospel Of Horns, Necros Christos, Sodom, Bolt Tower, Iron Lamb, Cattle Decapitation, Warbringer, Ghost Brigade, Incatation, Rompeprop, Skalmöld, Toxic Holocaust, Nocte Obducta, Archgoat, Tankard, Immortal
Summer Breeze, DE 16-18/8:
Alcest, Amon Amarth, Anaal Nathrakh, Asp, Asphyx, Audrey Horne, Before The Dawn, Be'lakor, Betontod, Black Sun Aeon, Bullet, Cattle Decapitation, Corvus Corax, Darkest Hour, Dark Tranquillity, Deathstars, Deetz Nuts, Deicide, Die Apokalyptischen Reiter, Evergreen Terrace, Excrementory Grindfuckers, Farsot, Firewind, Fleshgood Apocalypse, Ghost Brigade, Glorior Belli, Graveworm, Hatesphere, Incantation, In Solitude, Insomnium, M Negarm, Mono Inc, Morgoth, Municipal Waste, Napalm Death, Nile, Oomph!, Protest The Hero, Rage, Sick of It All, Six Feet Under, Subway To Sally, Tanzwut, Tasters, The Generatos, The Rotted, The Unguided, Toxic Holocaust, Unearth, Unleashed, We Butter The Bread With Butter
Dette var således 1 del af "Guide til sommerens festivaler 2012." Personligt tager undertegnede (Weiss) endnu en tur til Wacken til sommer. Der er vel en 20 navne på min must-see liste allerede og hvem fanden kan sige nej til Scorpions sidste Open Air koncert i Tyskland, Amon Amarth, Saxon, Hammerfal, Gamma Ray, Dimmu Borgir med fuld orkester, Machine Head og vores helt egne D-A-D og Volbeat som endda headliner. Det kan kun blive fucking episk!
Derudover kan jeg da heller ikke sige nej til Copenhell, hvis program er klasse for en festival der kun har eksisteret i 3 år! Respekt!
Roskilde skal undertegnede jo selvfølgelig også til. Det er ikke en ren metalfestival og hvad helvede så? Roskilde er Roskilde og at tage til en middagsmetalkoncert på Odeon er fandme noget af det der giver livet mening!
Guide til sommerens festivaler 2012 part 2 kommer meget snart!