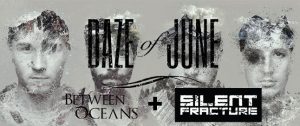 D. 24 marts er der dømt stort releaseparty på Gimle, for alle med hang til store melodier og moderne metal!
Med DAZE OF JUNE får du rendyrket metalcore, med hooks og omkvæd, i den internationale klasse. Bandet står nu klar med deres debutalbum "Heart of Silver", som altså har release på Gimle i Roskilde d 24 marts, hvor de spiller med Between Oceans og Silent Fracture.
Vi har en vild præmiepakke klar til to heldige vindere, bestående af en billet til showet, en t-shirt, et eksemplar af cd'en og en valgfri drink på aftenen. So… whats not to like?!?
Det eneste du skal gøre er, at svare på følgende spørgsmål i kommentarfeltet i denne artikel (IKKE på Facebook!)
Spørgsmål:
Daze Of June var en del af The New Shit i 2017. Men her gik de under navnet:
A) Archives Of Alaska
B) Archives af Africa
Vi skal have dit svar senest d. 20 marts