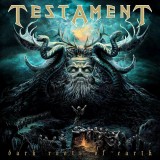 BUM! Så er det tid til en omgang solid Bay Area thrash. Testament smider Dark Roots of Earth på gaden denne sommer!
Jeg tror ikke, at jeg er den eneste der glæder sig til denne udgivelse. Titel og cover-artwork er noget af det mest bad-ass jeg længe har set, og hvis bare musikken følger trop kunne dette godt gå hen og blive et af årets bedste metaludgivelser!
Coveret er tegnet af Eliran Kantor, der tidligere har arbejdet for SODOM, ATHEIST, SIGH og endnu engang er det Andy Sneap (ARCH ENEMY, NEVERMORE, ACCEPT, EXODUS), der har skruet knapper!
Dark Roots of Earth vil blive udgivet 27 juli via Nuclear Blast!
Track-liste:
01. Rise Up
02. Native Blood
03. Dark Roots Of Earth
04. True American Hate
05. A Day In The Death
06. Cold Embrace
07. Man Kills Mankind
08. Throne Of Thorns
09. Last Stand For Independence