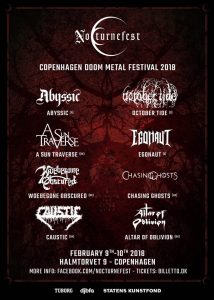 I weekenden d 9-10 februar står den på tung, mørk og gotisk doom metal, når doomfestivalen Nocturnefest for første gang afholdes på Halmtorvet 9.
Programmet er yderst varieret og til denne første udgave kan du opleve koncerter med:
OCTOBER TIDE (S), ABYSSIC (N), WOEBEGONE OBSCURED (DK), A SUN TRAVERSE (DK), EGONAUT (S), ALTAR OF OBLIVION (DK), CHASING GHOSTS (UK) & CAUSTIC (DK)
Nu har du mulighed for at vinde billetter til festivalen. Alt du skal gøre er, at svare rigtigt på spørgsmålet i artiklen herunder (ikke på Facebook!), så er du automatisk med i lodtrækningen.
Spørgsmål:
Et af årets to hovednavne er norske Abyssic. Bandet udgav i 2016 deres debut. Hvad er titlen på albummet?
a) A Winter's Tale
b) A Spring's Tale
Vi skal have dit svar senest d 7 februar.