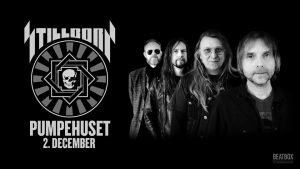 Lørdag d. 2. december er der dømt doomet heavy rock i Pumpehuset! Svenske Stillborn kigger forbi!
Vi har simpelthen billetter til koncerten, som vi nu giver væk!
Men du skal være hurtig. For der er ikke mange dage til, at koncerten bliver afholdt.
Det eneste du skal gøre er at svare på følgende spørgsmål i kommentarfeltet her i artiklen, så er du med i konkurrencen om billetter til showet.
Spørgsmål:
Stillborn startede i Göteborg, da Kari Hokkanen (vokal og bas) og Petter Bryneson (trommer) mødte Ingemar Henning (guitar) i 1984. De tre svenske gutter spillede dog en enkelt koncert under et andet navn.
Hvad var navnet?
a) The Cranium
b) The Skull
Vi skal have dit svar senest på torsdag d. 30. november.