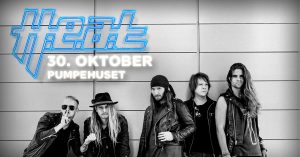 Svenske H.E.A.T er et af de største navne indenfor den nye bølge af melodiske AOR bands.
Og snart kommer de til København, hvor de gæster Pumpehuset, som et led i deres omfattende Europa Tour i kølvandet på deres nye album "Into The Great Unknown" .
D. 30 oktober giver svenskerne koncert og nu har du mulighed for at vinde billetter til koncerten!
Det eneste du skal gøre er at svare på følgende spørgsmål i kommentarfeltet i artiklen.
Spørgsmål:
Titlen på det nye H.E.A.T album er "Into The Great Unknown". Hvad er titlen på det forrige H.E.A.T udspil?
a) Tearing Down the Walls?
b) Address The Nation?
Vi skal have dit svar senest d 27/10