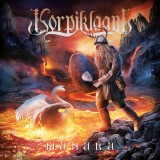 Forleden kunne vi her på Blastbeast.dk fortælle at Copenhell-aktuelle Korpiklaani 3 august er klar med det nye album "Manala." 
Nu er trackliste og cover blevet offentliggjort.
Coveret er tegnet af den finske kunstner Jan Yrlund og til det fortæller bandets sanger Jonne Järvelä:
"On the album cover, our band mascot Vaari represents Väinämöinen, who is one of the main characters in the Finnish national epic Kalevala. As most of the lyrics on "Manala" are based on the Kalevala, Jan Yrlund decided to draw his inspiration for the cover artwork from the beautiful but yet brutal depiction of the underworld in Finnish mythology." 
Albummet hvis tekster alle bliver sunget på finsk vil kunne købes i en limited Digipak edition med alle de finske tekster oversat til engelsk.
Trackliste er som følger:
LTD. DIGIPAK CD:
01. Kunnia
02. Tuonelan Tuvilla
03. Rauta
04. Ruuminmultaa
05. Petoeläimen Kuola
06. Synkkä
07. Ievan Polkka
08. Husky Sledge
09. Dolorous
10. Uni
11. Metsälle
12. Sumussa Hämärän Aamun
Bonus CD:
01. Honor
02. At The Huts Of The Underworld
03. The Steel
04. Soil Of The Corpse
05. Predator's Saliva
06. Dark Side
07. Ieva's Polka
08. Husky-Sledge
09. Dolorous
10. Dream
11. Off To The Hunt