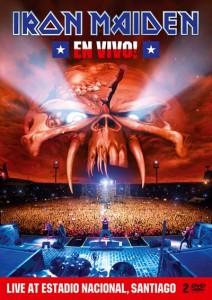 Iron Maiden udgiver d 26/03 deres nyeste skud på live-fronten "En Vivo"
Denne koncert er filmet og optaget d 10 april 2010 på Estadio Nacional, Santiago i Sydamerika på bandets Round The World In 66 Days leg af The Final Frontier World Tour, der ligeledes bragte dem forbi Roskilde's Orange Scene i 2011.
Var man til koncerten på Roskilde har man således nu mulighed for at genopleve den samme setliste, de samme kulisser og den samme Eddie, man kunne opleve på Dyrskuepladsen i Roskilde.
"En Vivo" bliver bandets 9ende liveudgivelse (medregnet "Beast Over Hammersmith"). Så er man fan af bandet er denne udgivelse et absolut must!
Setliste:
1. Satellite 15
2. The Final Frontier
3. El Dorado
4. 2 Minutes To Midnight
5. The Talisman
6. Coming Home
7. Dance Of Death
8. The Trooper
9. The Wicker Man
10.Blood Brothers
11.When The Wild Wind Blows
12.The Evil That Men Do
13.Fear Of The Dark
14.Iron Maiden
15. The Number Of The Beast
16. Hallowed Be Thy Name
17. Running Free