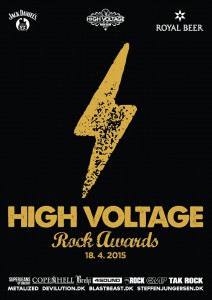 Så er der kun et par uger til Danmarks nye rock award bliver uddelt på High Voltage i København. Og du kan komme med! 
Navne som Solbrud, SEA, Horned Almighty, Förtress og Pet The Preacher er alle bands der har mulighed for at vinde priser denne aften, når High Voltage Rock Awards bliver afholdt d 18 april.
Du har nu mulighed for at komme med til awardshowet. Det eneste du skal gøre er at svare på følgende spørgsmål, samt skrive dit fulde svar i kommentarfeltet under artiklen.
Spørgsmål:
Til High Voltage Rock Awards er der forrygende liveunderholdning. 5 bands spiller op til dans, hvor af Solbrud, Förtress, SEA og Taras er de 4 af dem. Men hvad er det 5 og sidste navn denne aften?
a) Shotgun Revolution
b) Supercharger
Vi skal have dit svar senest d 15 april.