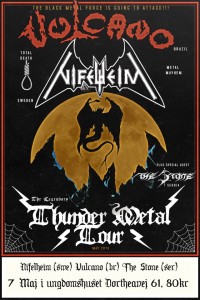 Så skal jeg lige love for der er opstået en spontan booking!
Denne i form af black metallerne i Nifelheim (swe) / Vulcano (br) / The Stone (ser) der gæster Ungdomshuset imorgen på Dortheavej.
Arrangørende skriver:
"Due to the cancellation of the show in Malmö, we are proud to announce a last minute spontaneous show here in Ungdomshuset for the legendary NIFELHEIM!!! With them on tour are VULCANO from Brazil and THE STONE from Serbia.
Doors will open from 21.00. Show up early! Cool Cash only!
Ungdomshuset does not tolerate racist, homophobic or sexist behavior. See you tomorrow, it will be a BLAAAAAAST!!!!!!"
Det er da vidst hvad man kan kalde en koncert i sidste øjeblik!
link til event