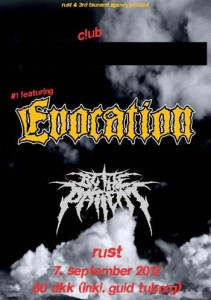 Rust har startet en ny metal-club, kaldet.. ja.. det er ikke godt at vide!.. Men du kan vinde to billetter til deres første arrangement, med svenske Evocation og danske By The Patient d. 7/9-2012!
Vi udlodder dermed 2×2 billetter til to heldige vindere til det første af en række metal-events på Rust!
For at vinde billetter skal man skrive sit svar, fulde navn og mail i kommentarfeltet herunder. Vi kontakter vinderen direkte! Konkurrencen løber til og med d. 6/9 2012.
Spørgsmål:
Hvad hedder den nye metal-club på Rust?
A) Raining Blood
B) South Of Heaven
C) God Hates Us All