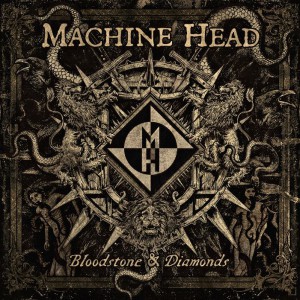 YES! Så er der endnu flere gode nyheder for fans af de amerikanske thrashere!
De i dén grad Danmarks aktuelle Machine Head, har ikke kun idag offentliggjort endnu en koncert i vores lille land. Nu er de også klar med albumdetaljer for den kommende udgivelse.
Dette er deres 8 i rækken og opfølgeren til den glimrende "Unto The Locust" fra 2011.
"BLOODSTONE & DIAMONDS" er titlen og tracklisten lyder således:
1. Now We Die
2. Killers & Kings
3. Ghosts Will Haunt My Bones
4. Night Of Long Knives
5. Sail Into The Black
6. Eyes Of The Dead
7. Beneath The Silt
8. In Comes The Flood
9. Damage Inside
10. Game Over
11. Imaginal Cells (instrumental)
12. Take Me Through The Fire
Albummet er produceret af Machine Head selv samt Juan Urteaga, mixing er gjort af Colin Richardson, Andy Sneap og Steve Lagudi.
Endnu venter vi på en dato for udgivelsen.