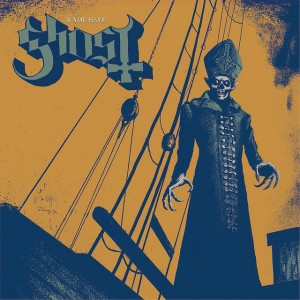 De svenske spøgelser har ikke bare spillet, men nu også indspillet, en række covernumre, der altså nu er klar til udgivelse!
Det sker d 19 november hvor EP "If You Have Ghost" kommer på gaden.
EP'en er produceret af ingen ringere end Dave Grohl og indeholder cover-numre af bl.a. Roky Erickson, ABBA og Depeche Mode.
Udover cover-numre vil EP'en også indeholde en liveudgave af cirkus-hymnen Secular Haze fra Music Hall of Williamsburg, Brooklyn.
Man kan så roligt sige, at Ghost er yderst aktive både hvad angår turné, men også udgivelser!
Den fulde trackliste lyder som følge:
01. If You Have Ghosts (Originally Recorded By Roky Erickson)
02. I Am A Marionette (Originally Recorded By ABBA)
03. Crucified (Originally Recorded By Army Of Lovers)
04. Waiting For The Night (Originally Recorded By Depeche Mode)
05. Secular Haze (Recorded Live At Music Hall of Williamsburg, Brooklyn)